Water and Environment - Bachelor and International M.Sc programme at Aalborg University
The education in "Water and Environment at Aalborg University provides the student with knowledge on hydraulics, laboratory experiments, field experiments an computer modeling used in all aspects of natural and urban water systems.
Urban drainage and wastewater treatment
Rain and sewage discharge from urban areas is an area of great importance concerning public health and welfare

in the cities. There are many challenges in designing systems that can handle the urban water, prevent floods and minimize the environmental exposure.
Climate changes has increased the focus on stormwater management and the use of local weather radar is on of the major research areas at Aalborg University (AAU).
Groundwater and water supply
Almost all drinking water in Denmark is abstracted from groundwater.

The quality of the groundwater is affected by pollution from urban areas or farming and since groundwater interacts with surface water (rivers and lakes) an integrated and sustainable management of this resource is important.
Recieving Water
Rivers, lakes, and coastal waters recive the water that has been altered by human activities (and by natural processes), and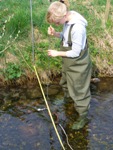 the water quality has great impact on the overall ecological state. The programme enables the student to meassure and model the hydraulic and chemical conditions of a natural river, lake or marine environment.